Can I still control a Countermark once it has been made?
Countermark issuers have the ability to withdraw Countermarks from use through the website. Individual Countermarks can be set to Active, Revoked, Suspended or Cancelled until they expire.
Only Active Countermarks may be read successfully by a valid phone user; the other types will give replies indicating that access to the information contained in the Countermark is currently withheld.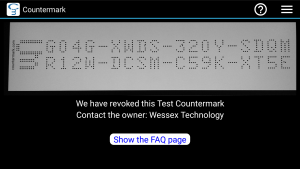 Status Types:
Active status is the usual initial state for Countermarks
Revoked status implies a short-term temporary interruption
Suspended status is intended when the interruption is required for a longer period of time
Cancelled status shows that the Countermark is now closed
The exact usage of these states is largely up to the Account Holder to decide.
These different status levels are manually selected as follows, and remain in place until changed again, in other words they do not revert back to the Active status after a few days – the status has to be manually changed once more. Even the Cancelled state can be changed back to Active if necessary.
This provides a useful mechanism of controlling access to the Countermark information even after the Countermark has been generated and used in the field for some time.